Senior Rehabilitation in Dallas, TX
Recover faster with senior rehabilitation in North Dallas.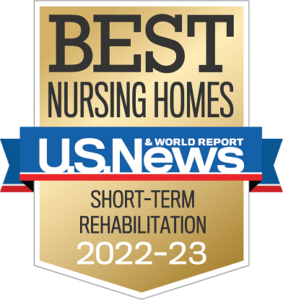 Signature Pointe has been recognized as a Best Nursing Home for Short-term Rehabilitation for 2022-2023 by U.S. News & World Report.
The annual Best Nursing Homes ratings, now in their 13th year, assist prospective residents and their families in making informed decisions in consultation with their medical professionals about where to receive short-term or long-term nursing home care. Only 16% of U.S skilled-nursing facilities earned the "Best Nursing Home" designation this year.
Read the full article here.
Get back to the life you love, faster, with comprehensive senior rehabilitative care including physical therapy, occupational therapy, and speech language therapy at Signature Pointe. Your optimal recovery from an injury, illness or surgery is the goal of our short-term senior rehabilitation center. You'll have access to individualized nursing care 24 hours a day, and rehabilitation therapy, designed specifically to optimize healing and restore your confidence, strength and sense of independence.
Goal-driven senior physical, speech, and occupational therapy services.
Post-acute therapy at Signature Pointe is designed to offer you the fastest route to recovery. Our team helps every guest maximize what they can do and assist in adapting to what they can't. The goal is to ensure the highest possible level of independence, and our team provides customized medical care to help guests with pain, weakness or loss of function realize their maximum potential.
Rehab vs. skilled nursing.
Many people understandably are confused about the difference between short-term rehabilitation and long-term skilled nursing. Short-term senior rehabilitation (sometimes called skilled nursing rehab), means a nurse oversees your care while you receive rehab during your short-term stay. Skilled nursing means a nurse oversees your care 24/7. Rehab is covered by insurance. Long-term skilled nursing is mostly private pay.
Patient-centered senior rehabilitation at Signature Pointe.
Now that you understand the basics of senior rehab, let's talk about the personalized, high-quality senior physical therapy, occupational therapy and speech therapy offered at Signature Pointe.
We understand that even when guests share similar health concerns, their needs and care levels may be very different. Our interdisciplinary team of advisory physicians, skilled nurses, physiatrists, and physical, occupational and speech therapists develop a customized recovery plan just for you.
We work with you, your family and personal physician to help you recover as quickly as possible in an environment that encourages positivity and camaraderie. In fact, we are a preferred partner with some of the largest health systems in Dallas, including Baylor Scott & White, UT Southwestern Medical Center, Medical City Dallas Hospital, Methodist Health Center and Texas Health Resources.
We accept direct admissions from the Dallas-Ft. Worth area into our rehab center, which also is Medicare-certified, and offers access to an interdisciplinary team and care specialties.
Our services include:
Registered nurse on staff 24 hours a day, seven days a week
Therapist on site
Occupational, speech and senior physical therapies
On-site ultrasounds, electrical stimulation (e-stim), diathermy and more
Omnistim® FX2 Pro patterned electrical neuromuscular stimulation
OmniVR® virtual reality augmented therapy
Omnicycle® Elite motorized rehabilitation system
Certified lymphedema therapists

Certified Ampcare therapists
On-staff physician consultation
On-site psychologist
Medication services, including pain management
Pharmacy services
Licensed social workers for support
Registered dietitian for meal planning
24-hour emergency response call system
Learn how our experienced team will light the way on your journey back to the best you.
From onboarding to at-home exercises, learn how our rehab experts will guide your path to recovery.
Therapists bring hope back to our patients through senior rehabilitation.
We are lucky to have the perfect mix of occupational and senior physical therapists on our team to help our patients through rehabilitative care. Some of our staff members have been in the field 30+ years and some have been in the field less than two years. This provides our residents with the highest level of support from our veteran therapists and innovative techniques from our recent graduates. Our home-like atmosphere helps patients feel less institutionalized and allows our staff to provide the most specialized care possible.
Insurances accepted:
AARP Medicare Advantage SecureHorizons
Aetna
Baylor Scott & White Health Plan
Blue Cross Blue Shield
Care Improvement Plus
Care N' Care
Humana

Medicare
Silverback/NTSP
Southwestern Health Resources
Superior HealthPlan
UnitedHealthcare
WellMed
Signature Pointe also participates in Curaspan, Epic and Allscripts, and will gladly verify all insurances to determine benefit eligibility. Private pay also accepted.