Our Senior Living Community in Dallas, TX
Home is where your friends are.
There's a reason Signature Pointe has been a leader in senior living for more than 20 years. In fact, it has become something of a landmark in north Dallas. So well-known, we are often recommended by residents, their families and medical professionals. Why? Because we're family.
We're one of those classic communities that's always active. Residents here are happy. Team members are dedicated and compassionate. And as soon as you walk through our front door, you feel at home.
Our singular goal here at Signature Pointe is to ensure your needs are met, both now and in the future. We offer all levels of care, all in one building. As a Life Plan Community, we provide vibrant senior living options. Whether you're seeking an active, independent lifestyle in a spacious apartment, need a little help with daily activities provided through assisted living or are searching for a loved one who requires personalized memory care, skilled nursing or short-term rehabilitation, you'll find it here in our special senior living community in Dallas.
But Signature Pointe is more than just another senior living community. Yes, we offer all the amenities and services you need, but it's the intangibles that set us apart. It's the way you feel when you live here. It's the friends you make. It's the quality of life residents enjoy. Signature Pointe is specifically designed for the way you want to live.
What's it really like to live here? Find out by scheduling a tour and talking to our friendly staff and residents. Use the contact form on this page, or simply call (972) 726-7575.
We're proud to be a senior living community in Dallas, Texas, trusted for our stability and excellence, long-tenured and caring staff, and reputation as a great place to live and work. We're in the top 1-2% of nearly 45,000 senior care providers across the nation, awarded 2023 Best of Senior Living by a Place for Mom.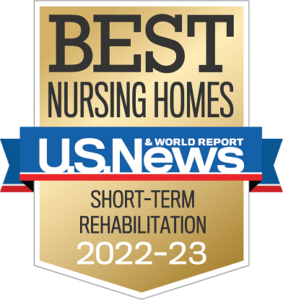 Signature Pointe has been recognized as a Best Nursing Home for Short-term Rehabilitation for 2022-2023 by U.S. News & World Report.
The annual Best Nursing Homes ratings, now in their 13th year, assist prospective residents and their families in making informed decisions in consultation with their medical professionals about where to receive short-term or long-term nursing home care. Only 16% of U.S skilled-nursing facilities earned the "Best Nursing Home" designation this year.
Read the full article here.
There's always something happening here.
Explore the Signature Pointe difference.